I got 3 boxes of SPX, here are the results. To say I killed the odds is an understatement.
Autos:
Alphonso Smith 23/99
Buster Davis
Brandon Gibson
Robert Ayers (redemption)
Andre Smith 18/25
Justin Forsett
Patrick Chung 122/299
Jerseys
Marc Bulger Dual 84/99
Patrick Willis Triple 7/10
Michael Crabtree Dual 40/149
Juaquin Iglesias Dual 17/249
Mark Sanchez 257/349
Knowshon Moreno Dual 27/99
Barry Sanders 213/249
Mike Vrabel Dual 24/50
Peterson/Portis Dual 6/35
Ben Roethlisberger 85/249
Darrius Heyward Bey 59/99
Terry Bradshaw (Damaged) 38/99
Mark Sanchez 27/149
Ernie Sims Dual 9/149
Merlin Olsen 174/249
Glen Coffee Dual Patch 4/99
Julius Peppers 3 color 7/99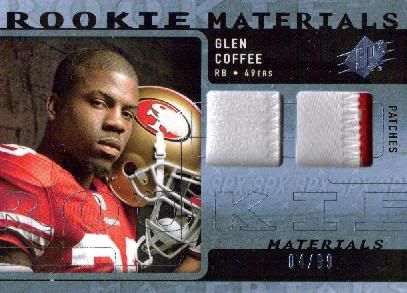 Rookie Jersey Autos
Juaquin Iglesias 175/549
Javon Ringer 452/549
Rhett Bomar Patch 15/25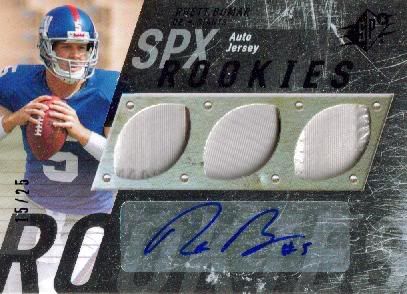 Here is my third best pull of the break. Yes, this was the third best pull.