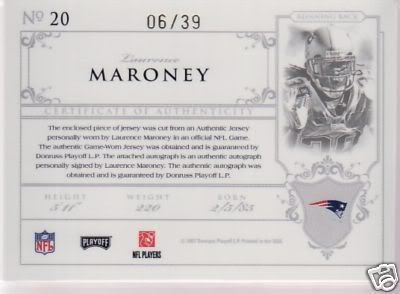 From my newest pickup. Just in case you cannot read it, the back of this card states as follows:

"The enclosed piece of jersey was cut from an authentic jersey personally worn by Laurence Maroney in an OFFICIAL NFL GAME. The authentic game worn jersey was obtained and guaranteed by Donruss Playoff, LP."

Boo-fucking-yah motherfuckers. DLP - I (heart) U.

To those of you who doubt the majesty of National Treasures, I assure you - IT IS THE MACK DADDY OF HIGH END PRODUCTS.