I know I have already talked about the destruction of the 1/1's value in the hobby, but there is a whole different kind of monster that needs my attention. In today's industry you cant release a set without some kind of parallels in the product. I guarantee you that any product from 2003 on contains at least one kind of parallel. Of course, one kind of Parallel is not the problem. In fact, I support the parallels for SPA football patch autos because they are 1 of 3 levels. On the other hand, Topps CoSigners, Topps Triple Threads, Topps Moments and Milestones, Upper Deck Premier, DLP National Treasures, etc have upwards of 15 parallels per set. Do we really need 15 fucking parallels of one card? Definitely not.

Lets take a look at the Topps Triple Threads Triple Relic Auto "Rookie Card" for All Day.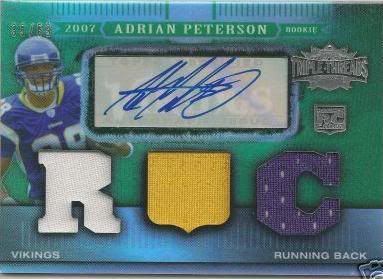 For this card you have the base /99, and parallels numbered to 89, 79, 69, 49, 27, 25, 18, 10, 9, 3, 1, and 4-8 plates. This does not include the rest of the set which contains three other Peterson Triple Relic Autos with basically the same numbering. That is fucking overkill. I think if we are going to release cards, lets keep it to 2 or less parallels. It raises value, prevents confusion, and negates this whole "True RC" bullshit that no sensible person should care about.

SPA Football has 2 parallels per RC patch auto and remains the 2nd or 3rd highest valued card for a Rookie. Gee, I wonder why? Maybe because in SPA, you have a Rookie that has 399 base card auto patches, 25 gold, and a logo patch auto to 1 that no one will ever pull, and thats all there is. That is why people love this set. At 100 bucks, you get a shot at 30 or so rookie patch autos at one every other box and they arent the most accessible cards. Topps, I am beginning to wonder why I bother with your crap. ESPECIALLY when you keep putting out the abortion that is moments and milestones. I think I would rather amputate my leg with a rusty spoon than be forced to pay the price point for that paralleled to death bullshit.

The ONLY thing in this world that needs parallels is hot women. I would love 99 plus parallels of Meghan Fox. That would be worth my time.