Now that the 2008 season of NFL cards is upon us, I wanted to quick run through my favorites of 2007 – year of the Purple Jesus. These are not based on price or on scarcity, but rather how I feel the cards were put together. I will mostly focus on the top auto and jersey subsets of the year, but I will say that when it comes to base, Topps and Topps chrome 2007 were my favorite, just in case you were wondering (I know you were).

So, with much fanfare and hullabaloo, lets go Voltron Force!

11. Leaf Certified Materials - Freshman Fabric Mirror Blue Autos




As with most things, I turn it up to 11, this will be no exception. LCM was one of the first BIG sets of the year and they had it out in full force. I ran out and bought the Peterson right away because of how pretty these cards were. In the beginning of the card season where all the sets are usually butterfaced escorts, these are Jenna Jamison.

10. Topps – Rookie Premiere Signatures




I really liked the Topps design all around last year. It was enough for me to care about getting the base set when I bought the jumbo boxes to get the RP Sigs. They transferred their base design into these cards, only switching them to a stark white border. The autos were on card and done in blue and red ink – both of which look amazing. I would rank these higher except the pictures on them are so fucking goofy. Football players should never smile, ever! They are lean mean fighting machines, or in P-Willies' case, big mean first born eating machines.

9. Ultimate Collection - Rookie Signatures




I liked these cards for some reason. The horizontal design and the auto space was interesting for what we normally get from the Ultimate RC autos. They had action pictures, which I liked on most of the cards, and they had a nice design to complement the pictures. Even the font was nice on these. The problem? The rest of the set was so awful I couldn't justify even trying one pack of this shit.

8. National Treasures – All Decade Relic Autos




National Treasures was huge this year, and was the most value per break of any of the high end products. These cards which featured any number of die cut relics cut into a card that looked like granite. Granted these were stickers, which made them fall a little in my opinion, but overall I loved the cards. I bought a Montana, an Alan Page, and a few others and I am displaying them proudly.

7. National Treasures – Jumbo Patch Auto Rookies




These cards were great for their innovation compared to last year. All were hard signed and featured HUGE patches that were sure to include a lot of color. The nice photos combined with the white background made those autos pop. My sick shit-o-meter was at a 9 when I saw the sell sheet, but went to a 10 when I saw some of the patches live. Of course its all "Event Used" bullshit, so that wasn't all that impressive. The subsets of the cards produced some of the most mind boggling awesomosity in terms of patches, but for some reason, they were stickers! Fuck that shit. Jesus!

6. Topps Chrome - Base Auto Subset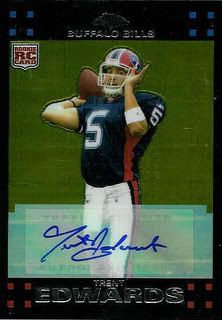 As said above, this base set rocked my socks off. To add autos to the RCs was killer, and to top it all off, the auto spots really blended in with the cards. They had really nice photography for most of the cards, and I felt like they were some of the top RC autos for a reason.

5. SP Authentic - Sign of the Times




Although I hate, hate, HATE, the name of this subset, the cards were amazing. Mixing the RC autos with vet autos made this set nice to find in any box, mainly because you were so unsure of what kind of crap you may get with the big hit of the box. Again, all hard signed, and really stunning with the vertical auto on the side. I think UD really pulled all their top designers from their lower sets and had them all focus on SPA for the year. While most of UD's products were blown out of the water by DLP in terms of designs, SPA held its own.

4. SP Authentic - RC Patch Autos




If you had the luck of pulling one of these, WITH a good player, you hit one of the major jackpots of the year. As with a lot of UD products last year, they went with a horizontal design for the first time. I liked it a lot, especially because of the mix of the action shots with the shadowed non-action shots. 2006's suffered in my opinion because of a lack of action shots, and because I think a lot of players look ridiculous without their helmets on.

3. Gridiron Gear – Gridiron Gems Triple Relic Autos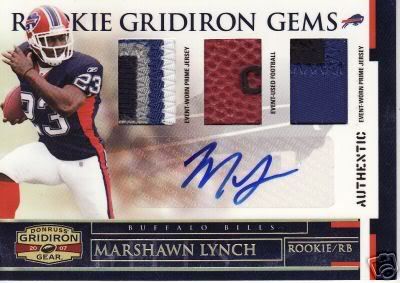 If you didn't love this set, you were either living in an Afghani cave, or you didn't collect football cards. Otherwise, you loved this set like 99% of the rest of the population. They just made you want to go out and hug someone when you pulled one, because the white background, sick patches, and black/blue sharpie looked like fucking sweet emotion for your eyes. Plus, they really used the nice ink because those colors really stood out on the well placed photos. I busted 7 boxes and pulled two – I didn't bust more than 3 of any other box.

2. Leaf Limited – Phenoms Patch Autos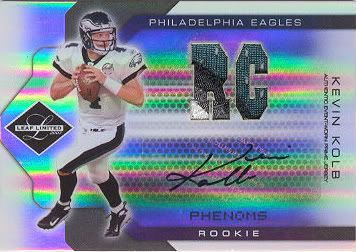 Leaf Limited was the breakout set of the year. I fucking loved every single card. If it was a woman, I wouldn't have been able to get near her to make my move, and her sister would still be hotter than any girl you have ever seen too. That's how great looking these cards were. The phenoms were the gems of the set, and they did not disappoint. The bright silver foil board with the full bleed photos were amazing, and the autos seemed to blend seamlessly with the card. The only problem was the number of redemptions. All the Petersons were redemptions, and I had to pay full price knowing that I may not get more than a 1 color patch once I got mine back. I got lucky, but others didn't.

1. Exquisite – Jersey Number Autos




I think these cards may be some of the best of the entire modern age. That's how fucking remarkable I thought these were. These were an immense shining beacon of light in a relatively drab year. Either way, they are all hard signed and color coordinated to the player's color. The swoosh-like space for the auto looks great and fits in tremendously with the rest of the card. It features both rookie and vet autos numbered to the jersey number of the player, so you know these were scarce. PLUS, no parallels of any kind - NONE. That means for any particular card, the number on the card is the number in existence. My latest all day pickup is pictured as an example.

This is, of course, only an opinion, but I think I got a pretty good sampling of what was out there. I would have included some of the logo cards like the All Day Nike Swoosh Logo 1/1 pulled by Chris' people at Cards Infinity, but no one will ever pull those. Same with the NT Peterson below which made me cry at its beauty.




I know I will kick myself for missing some cards that I loved, so ill just add those on as honorable mentions as I find them.