To my vast readership, all three of you, I just wanted to give a plug to the Sports Card Blog Directory over at Wax Heaven for featuring SCU on their Blog. Mario, the guy who writes Wax Heaven, may be one of the most visible guys in the blogosphere when it comes to our kind - thanks for helping out a fledgeling like myself.

If you havent checked out Wax Heaven, please do - it lives up to all the publicity it gets.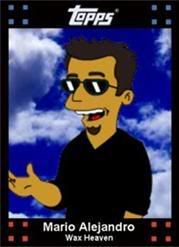 Another 1/1? Wow, thanks Topps.